The High Court has dismissed a claim against Lloyds Bank alleging the bank's failure to respond to an individual's data subject access requests ("DSAR") following possession proceedings.
Our specialist financial services litigation lawyers can advise you in claims against financial institutions and obtaining disclosure of relevant documents.
Check Your Litigation Case ✔
We analyse your case prospects. We deliver strategic legal advice at your first fixed fee meeting. We get optimal legal results. Want our opinion on your case? Click below or call our lawyers in London on ☎ 02071830529
Lloyds obtains possession order against Claimant
Between 2010 and 2015, the Claimant, Silas Lees, entered into buy to let mortgages with Lloyds Bank Plc in respect of three properties. In 2019, Lloyds issued claims for possession against the Claimant and on 31 May 2019, Lloyds obtained an order for possession of each of the three properties.
On 25 June 2019, the Claimant applied for an order to stay execution of the possession order pending disclosure by Lloyds of a deed of assignment relating to the mortgages. The application was dismissed on 14 August 2019 by the Court as being without merit.
Bank's alleged failure to respond to Claimant's Data Subject Access Request (DSAR)
The Claimant issued a part 8 claim on 23 August 2019 against Lloyds Bank Plc for failing to provide an adequate response to various Data Subject Access Requests in breach of the Data Protection Act 2018 and General Data Protection Regulation. In fact, the Data Protection Act 1998 was in force at the time the Claimant made the requests.
The Court found that Lloyds had adequately responded to all of the Claimant's requests and found against the Claimant stating that:
the DSARs issued were numerous and repetitive;
the data sought would be of no real benefit to the Claimant; and
the real purpose of the DSARs was to obtain documents rather than personal data to use in litigation against the bank and therefore the DSARs were abusive.
The Judge commented that even if the bank could be shown to have failed to respond to the DSARs, the Court still had a discretion as to whether to make an order and in this case there were good reasons for declining to exercise that discretion.
The Court dismissed the Claimant's claim holding that it was "totally without merit".
Read the full judgment: Lees v Lloyds Bank Plc [2020] EWHC 2249 (Ch)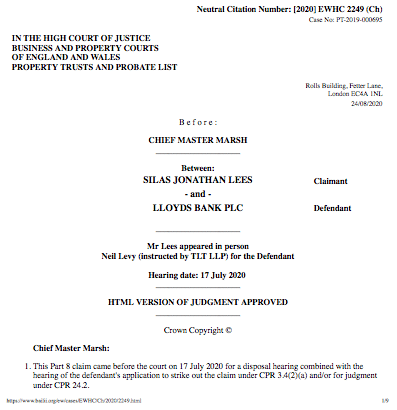 What is a Data Subject Access Request (DSAR)?
A data subject access request is a request made by or on behalf of an individual, usually in writing, for the personal data to which he or she is entitled under Article 15 of the General Data Protection Regulation (GDPR).
In litigation, a DSAR can be a way to obtain documents from an organisation such as a financial institution in contemplation or in advance of commencing proceedings against that organisation.
What is the ICO?
The ICO is the UK's independent regulatory body set up to uphold information rights. The ICO deals with complaints about organisation's handling and processing of individuals' personal data. The ICO also has a public register to find data controllers and organisations registered with the ICO under the Data Protection Act and Regulation.
How do I make a Subject Access Request?
Article 15 of the GDPR does not provide for a specified form of request. It is beneficial to make any request in writing so there is a clear record. An organisation may specify certain requirements for a subject access request. There is no longer a fee to make a subject access request.
The ICO has also published guidance on the right of access.
How can I obtain disclosure of information relevant to my claim?
If you have made a subject access request and an organisation has failed to comply, we can assist you in complaining to the ICO. We can also advise on making an application for pre-action disclosure or specific disclosure in litigation, whether the data controller is party or non-party in the litigation.
Instructing our Litigation Lawyers
​We​ ensure that we provide the best possible outcome for our clients by conducting in depth investigation and research into the realistic prospects of a case before selecting the appropriate course of action in order to reduce time and expense. Liability for costs is always an issue in litigation and based on our extensive litigation experience we provide our clients with as much strategic, practical as well as carefully considered legal advice in order to ensure minimum risk in respect of costs. Where appropriate we encourage the use of alternative dispute resolution (such as mediation and without prejudice negotiation) and our lawyer's negotiation skills are first class. If early settlement at advantageous terms is not possible, we are extremely experienced and capable at navigating our clients through the litigation process.
Check Your Litigation Case ✔
We analyse your case prospects. We deliver strategic legal advice at your first fixed fee meeting. We get optimal legal results. Want our opinion on your case? Click below or call our lawyers in London on ☎ 02071830529
LIMITATION ACT 1980 – WARNING
The Limitation Act 1980 sets out strict statutory deadlines within which you must bring litigation claims. Your legal rights will become irreversibly time-barred if you fail to take legal action (or defend a claim on time). Therefore, you should seek specific legal advice about your legal dispute at the very first opportunity so that you understand the time you have left. Failure to take advice or delay in taking action can be fatal to your prospects of success.
Please note that for regulatory reasons we do not offer any free advice.